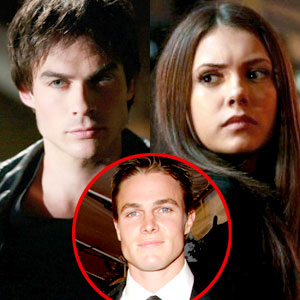 Mason Lockwood (
Taylor Kinney
) puede estar muerto, pero su herencia lobuna todavía vive. Los insiders confirman uq un joven actor llamado
Stephen Amell se
ha unido al elenco de
The Vampire Diaries
con un personaje que está conectado con el bello tío de Tyler (
Michael Trevino
) . Entonces, quién es el nuevo chico, y exactamente que papel jugará en la relación de vampiros y hombres lobos de Mystic Falls . Esto es lo que podemos revelar:
Los productores nos dicen sobre el personaje de Amell: "Stephen interpreta a Brady—un viejo amigo de Mason Lockwood quien viene al pueblo en busca de venganza. [El es] un amigo fiel o tu peor enemigo dependiendo de quien seas. Dijimos que es hot?" (Creemos que la belleza y el género de los hombres lobos están obviamente relacionados) Brady aparecerá en dos episodios, uno de los cuales se está filmando ahora. Wow, Damon Salvatore (
Ian Somerhalder
) mejor cuida las espaldas. Pareceque no parece tan fácil como pensaba torturar y matar a un hermoso hombre lobo y salirse con la suya. Además del personaje de Amels, Brady ,
Michaela McManus
se une al elenco
para el episodio de Dec. 9 "By the Light of the Moon," como Jules, una amiga de Mason que viene de Florida que llega buscando a su amigo perdido.